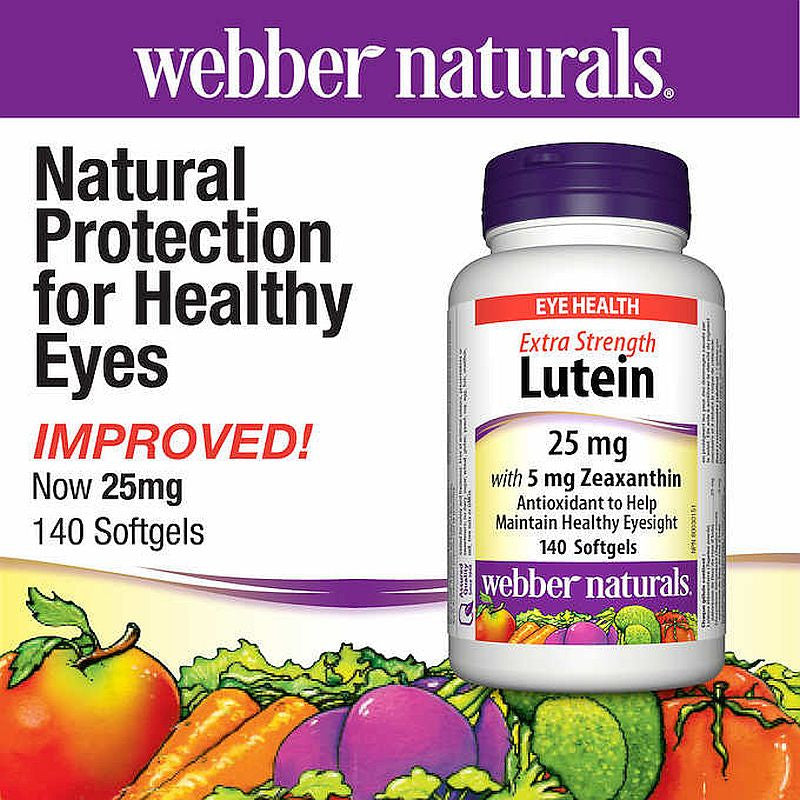 Webber Naturals® Lutein 25 mg with Zeaxanthin 5 mg - 140 Softgels
Expiry Date: One year or better - New Inventory
Special Price $24.99 valid until April 6 2019
Features and benefits:
Extra strength one a day formula
An antioxidant for eye health
Promotes the health of the macula, retina and lens by filtering out damaging blue light
Helps reduce the risk of developing Age-Related Macular Degeneration
Helps reduce cataracts
Contains no artificial colours, preservatives or sweeteners
Contains no dairy, no sugar, no wheat, no gluten and no yeast
Contains no soy, no egg, no fish, no shellfish, no salt, no tree nuts or no GMOs
NPN 80030151
This potent Lutein supplement contains 25mg of Lutein plus 5 mg of Zeaxanthin making it a valuable ally for healthy vision.  The leading cause of blindness in aging adults is Age-Related Macular Degeneration or AMD.  The macula is the area of the retina where images are focused and is responsible for fine vision.  Macular degeneration interferes with retinal function, leaving only a margin of outer vision, effectively preventing enjoyable reading or fine work.  Lutein is a yellow-orange carotenoid that may offer significant protection against macular degeneration.  Lutein and Zeaxanthin are protective carotenoids that absorb harmful blue light, especially from exposure to the sun.  The macula, especially the central portion of the macular (the fovea) owes its yellow colour to its high concentration of lutein.  Low levels of lutein may be a major risk factor for age-related macular degeneration.  Cataracts are caused by solar damage to the lens proteins of the eyes.  It has been found that when there is a high level of lutein in the macula, there is a reduced incidence of cataracts.
webber naturals® Lutein with Zeaxanthin contains deep orange-yellow carotenoids, from the beautiful marigold flower. Lutein and Zeaxanthin are very important antioxidants and are the only carotenoids found in the lens of the human eye and protect it against damage from UV light and other oxidative stresses. Healthy Lutein levels help counteracts Age-Related Macular Degeneration (AMD). The body does not naturally produce Lutein so it must be acquired through the foods we eat or from taking supplements.
Recommended dosage (adults):
1 softgel daily, preferably with meals, or as directed by a physician
Servings:
Warnings and precautions:
Do not use if you are allergic to plants of the Asteraceae/Compositae/Daisy family
Keep out of reach of children
Storage:
Sealed for safety and freshness
Protect from heat and humidity
Model 5195
---
People Who Bought This Item Also Bought