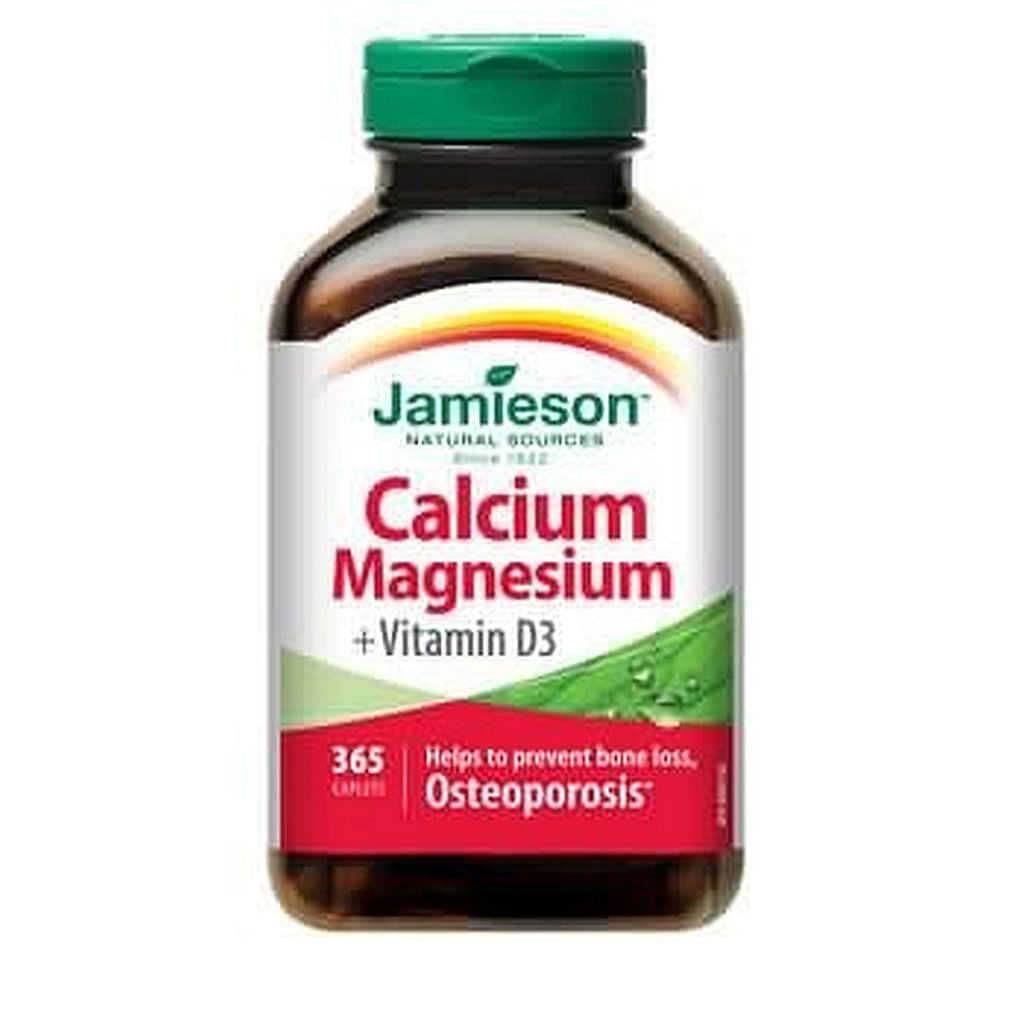 Jamieson™ Calcium Magnesium with Vitamin D3 -- 365 Tablets
Product Expiry Date: at least 2 years
Benefits
Helps maintain strong bones and healthy teeth

Helps prevent osteoporosis 

Helps support healthy muscle function
Manufacturer Product Description
Jamieson Calcium Magnesium is a highly absorbable formula that combines calcium and magnesium at the optimal 2:1 ratio. It helps to support strong bones and healthy muscle function, and may help reduce the risk of developing osteoporosis.
Directions
Adults: Take 1 caplet three times daily with meals. Take a few hours before or after other medications. Store between 15ºC and 25ºC, away from children.
Serving Size
1-3 caplets daily 
Quantity
365 caplets
Ingredient Information
Nutrient Information
Elemental Calcium (Calcium carbonate, Calcium citrate, Calcium fumarate, Calcium malate, Calcium succinate) 333 mg
Elemental Magnesium (Magnesium oxide, Magnesium citrate, Magnesium fumarate, Magnesium malate, Magnesium succinate); 167 mg
Vitamin D (cholecalciferol) 5mcg/200 IU
Also Contains
Cellulose, vegetable stearic acid, vegetable magnesium stearate, water-soluble cellulose, titanium dioxide, Brazilian palm tree
wax, polysorbate 80, mineral oil, maltodextrin, purified magnesium silicate, citric acid, soy polysaccharides, triethyl citrate, crospovidone.

NO salt (NaCl), gluten, lactose, shellfish or artificial flavours.
Warning
Consult a health care practitioner prior to use. Some people may experience diarrhea.
---
People Who Bought This Item Also Bought