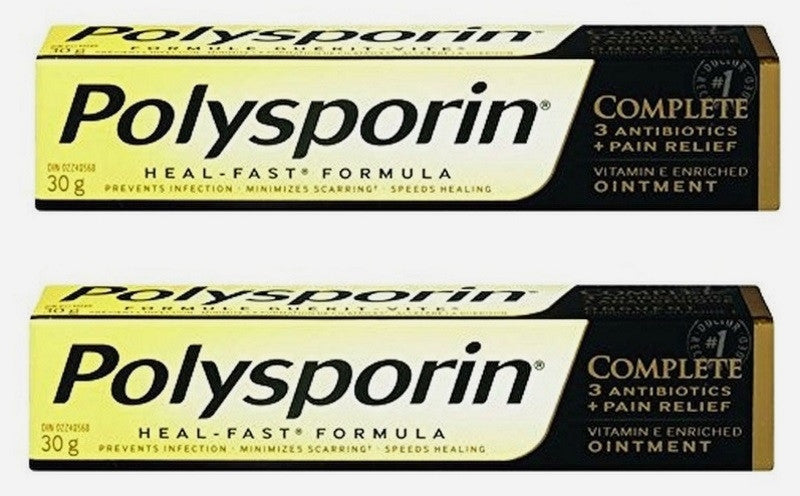 2x30g Polysporin Complete Antibiotic Ointment
Expiry Date : at least one year 
HEAL-FAST® Formula provides infection protection to speed healing
Contains lidocaine hydrochloride for fast-acting pain relief
Best suited for minor cuts, scrapes and burns
Soothing ointment forms a protective coating
#1 Doctor Recommended anti-infective brand†
Non-staining & odourless
3 antibiotics plus lidocaine hydrochloride
2x 30g = 60g
Appropriate for all ages
*Use of POLYSPORIN® Ointment + sterile dressing helps minor wounds heal 4 days faster than with a dressing alone (Leyden JL et al. 1987)
†Based on 2011 survey data published in Medical Post
Directions for Use :
Cleanse : Clean affected area thoroughly.
Treat : Apply POLYSPORIN® COMPLETE Ointment to the area 1 to 3 times daily.
Protect : Apply a sterile bandage, such as BAND-AID® Brand Adhesive Bandage, if available.
CAUTIONS : For external use only. Avoid contact with eyes; if this occurs, rinse thoroughly with water. Do not use over large areas of the body, in deep or puncture wounds, on animal bites or serious burns, or for more than 7 days unless directed by a doctor. If irritation occurs discontinue use and consult a doctor.
Store between 15°C and 30°C.
Ingredients :
Medicinal Ingredients (per gram) : 10,000 units Polymyxin B (as sulfate), 500 units bacitracin zinc, 0.25 mg gramicidin and 50 mg lidocaine.
Non-medicinal Ingredients (alphabetically) : butylated hydroxytoluene, cocoa butter, cotton seed oil, olive oil, petrolatum, sodium pyruvate, vitamin E.
---
People Who Bought This Item Also Bought