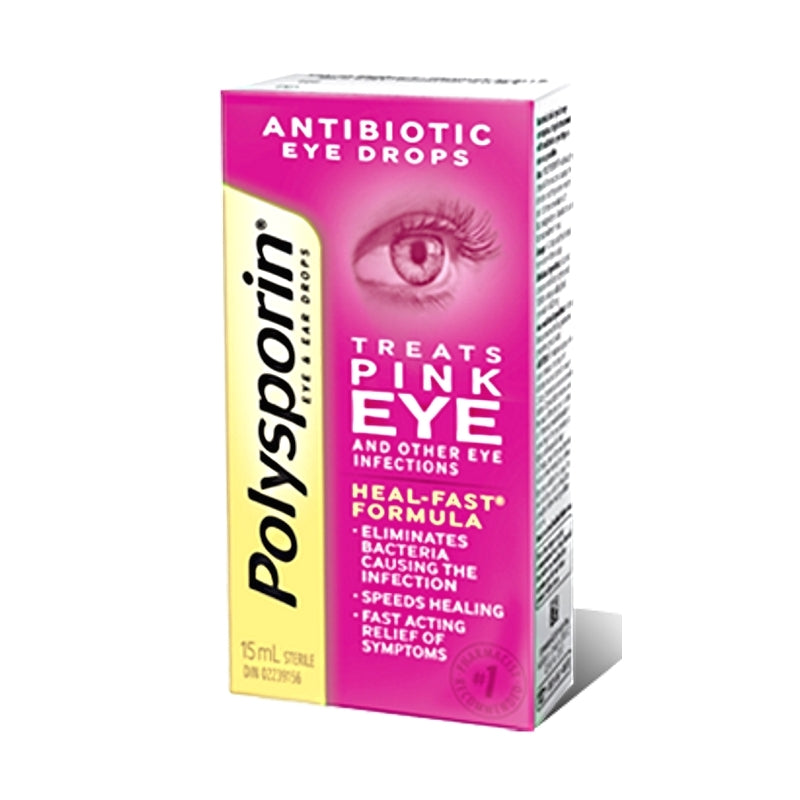 Polysporin Antibiotic Eye Drops Treats Pink Eye Heal-Fast Formula 15ml. FINAL SALE with NO REFUND
Expiry Date : at least 9 months or better
Polysporin Antibiotic Eye Drops Treats Pink Eye 15 ml Heal-Fast Formula

Features
Sterile antibiotic treatment for external infections of the eye/ear, such as conjunctivitis, or "Pink Eye"
#1 Pharmacist Recommended anti-infective brand†
Now available in a new easy-squeeze 15mL bottle.
As eye drops, appropriate for all ages.

As ear drops, appropriate for adults and children 6 years and older (consult doctor before use on children <6 years)

Directions for Use :
Apply 1 to 2 POLYSPORIN® Eye & Ear Drops in infected eye or ear 4 times a day, for 7 to 10 days. Avoid contact with the tip of the dropper to prevent contamination of the solution.

Eye drops suitable for all ages. For ear infections, a doctor should be consulted before treating children under 6.

CAUTIONS : If irritation occurs or in case of serious infection or if infection has not started to clear in 2 days, discontinue use and consult a doctor. Consult doctor before use if the cause of the pink eye is unclear, or if there is a marked sensation of something in the eye, sensitivity to light, continuous, abundant discharge, pain in the eye, impaired vision, severe hearing loss, severe pain in the ear or fever.

Store between 15ºC and 30ºC.


---
People Who Bought This Item Also Bought